Kum Kum is a powder which is made using turmeric, it is used for applying on foreheads in Hindu Religions, mostly all over India. This doesn't come into a food topic but I thought of sharing this as it will be useful for many people who have allergies in using kumkum that is available in the market.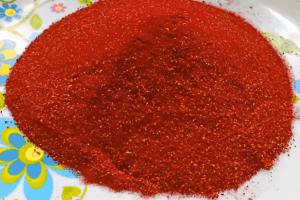 There are various names in different languages like Kumkuma, Kumkumam, kungumam, Kukam, kunku.
It is very easy to make this powder, just follow the below steps.
We need
1/2 cup Turmeric Powder
1/2 tsp Baking Soda
6 Spoons Lemon Juice
Instructions to make
Take a plate, add Turmeric Powder and Baking Soda,
mix them thoroughly.
Now add Lemon Juice and mix thoroughly.
Dry it under the sun for a day. Kum Kum is ready.
As fine powder the turmeric will be, the fine powder Kum kum will be.